Where can you dress like your grandparents, exhibit your dog, hang out with Chris Boardman and cycle with like minded people on some of England's most glorious rolling roads? The Eroica festival of course! Three days of vintage hedonism and heroism at its very best set in the stunning backdrop of Bakewell, Derbyshire.
L'Eroica was founded just nine years ago by Giancarlo Brocci in Gaiole in Chianti, Italy as a celebration of cycling. In that time, its influence has spread around the world as far as Japan and California. L'Eroica, meaning the hero, aims to explore the "beauty of fatigue" and the "thrill of conquest" - how very Italian! The preservation of the gravel roads, or strade bianche, was also uppermost in the minds of the founding fathers - and the gravel paths around the Derbyshire town of Bakewell provide a good English equivalent. As the British can't resist an opportunity to dress up and party, we have made Eroica Britannia one of the most successful of all, with our version of Eroica winning the Best Non Music Festival award in 2015. This was its third and most heavily subscribed edition so far.
Ride Velo is feeling a little 'fatigued' after taking full advantage of as many activities as possible during the action-packed three day festival. Firstly, there were celebs aplenty to listen to, ride with, or ask for a selfie with. On the Saturday, Barry Hoban, British Olympic and road cycling champion, was interviewed by journalist and author Chris Sidwells in the Arts Tent. Our highlight had to be the Q&A with David Millar in the Maserati tent, who was later joined by Chris Boardman.
Boardman popped up all over the place during the weekend; he was on rider registration duty on Saturday morning before heading out to judge the Best Dog show in the afternoon. The following day he rode out on the short 30 mile ride on a bike his Dad had built back when Boardman was a boy. "It wouldn't make it any further than 30 miles. It might not even last that," he joked. David Millar rode a stunning Eddy Merckx bike round the 55 mile route. Jools Walker, aka 'Lady Velo' was out and about on her brand new Bianchi L'Eroica and generally posing for photos against scenic backdrops...
The Best in Show event is the highlight of Saturday. Spanning several hours, there were more categories than you could wag a tail at, some of the more obscure being the home brew and cake offs in the inappropriately named Smeg tent. The Parade Ring was where we took up residence to admire the Best Guy, Best Gal, Best Rider, Best Moustache, Best Dog and Best Family. Some eager contestants entered more than one category - crowd pleasers the two old scrubbers got nowhere with Best Guy, but reached the finals for Best Gal.
Fashion designer, Patrick Grant, best known for judging the BBC's Great British Sewing Bee, was on duty throughout the afternoon - although what we really wanted to know was whether or not David Millar's new look of trousers folded above his wellies was going to brand him a trend setter or was it fashion faux pas? Millar insisted his look was "cooler that way".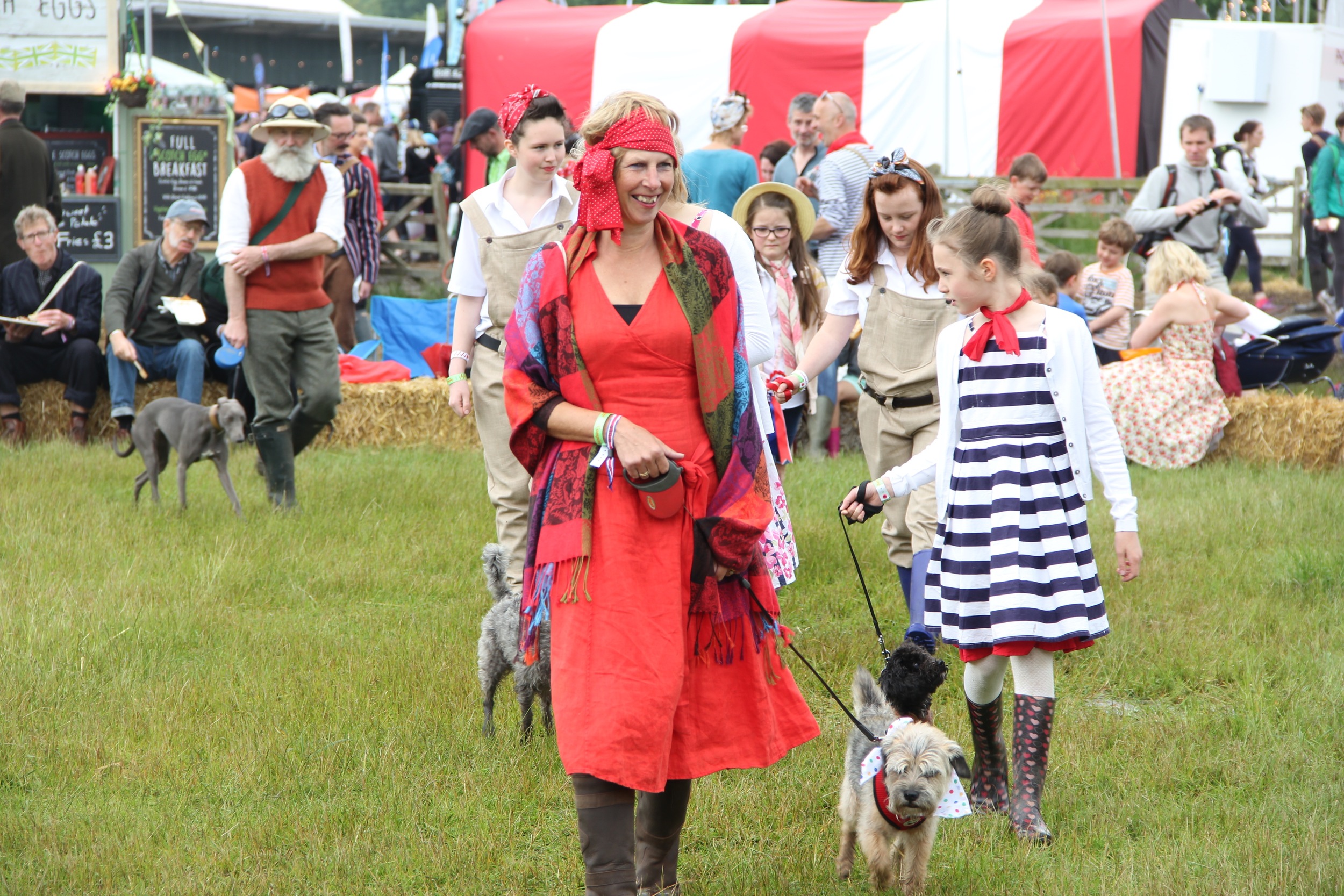 The judging for Best Bike on the main stage brought out Eroica experts Wesley Hatakeyama, Chris Sidwells and Dave Marsh who decided which prized and polished steed was worthy of the title. Finalists gathered on the main stage to display a beautiful Bianchi, a fabulous Falcon and a tarted-up tandem, amongst others. Crowds sat back and swigged the great tasting beers on offer from Thornbridge Brewery while kids played in the rather impressive British mud.
4,500 riders had bought tickets for Sunday's bike ride through the Derbyshire Dales. Pre 1987 bikes are the order of the day at Eroica, so the opportunity to pimp up your ride was immense. The enormous Bike Jumble section of the Great British Adventure, as it is fondly known, offered numerous stalls for rummaging around in, searching for that illusive bottom bracket or Bianchi stem. And if you didn't own your own vintage bike, there were plenty on sale or to rent. We fell in love with two stunning frames - a Mercian and a De Rosa in perfect condition for £700+ each! No we weren't buying, just appreciating.
It wasn't just second hand goods that were on offer, there were plenty of stands in the Let's Go Shopping area where we met old friends and new. Mark Fairhurst was exhibiting his delightful artworks, R.E.W. Reynolds were defying the muddy conditions and doing a brisk trade in their gorgeous classic leather cycling shoes and The Light Blue created a sensation with their stand of beautiful retro bicycles and accessories.
We were delighted to make the acquaintance of Adrian Williams, MD of Pashley cycles. He invited us to come and inspect his bike works in Stratford upon Avon an offer which we were honoured to accept! Cycle club the Guvnors' Assembly were out in force on their Pashleys, even completing the tough 100 mile ride on a single speed Guvnor!
As the evening gently rolled in the crowds moved to dance at the swing party on the main stage or boogie in the beer tent to a disco which the teenagers, and rather older Ride Velo, enjoyed greatly until we were unceremoniously kicked out at 11pm. Still, we had to be early risers the following morning as the brave 100 milers were due at the start line at 6am!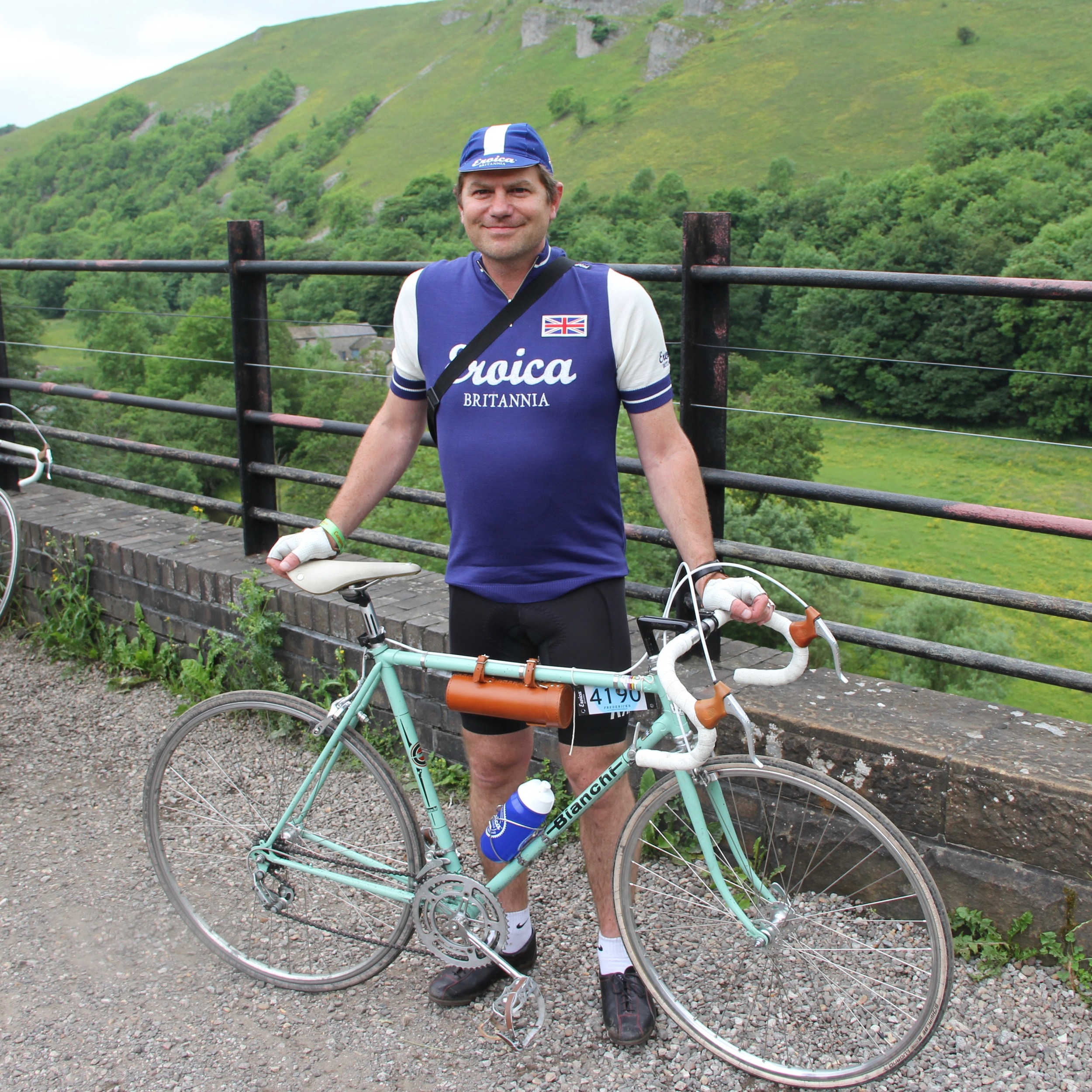 The ride itself on the Sunday comes in three strengths, in fact: 100, 55 or 30 miles. We teamed up with Richard from Schwalbe tyres - a true gent who bought us chocolate and beers - as well as David Smith and Lloyd Townsend for a 30 mile pub crawl... er ride... While the festival site was a veritable quagmire more resembling the Somme than anything else, the gravel roads along the disused railway and the lanes that roll majestically across the stunning countryside were in great shape. The official refreshment stops were an opportunity to admire the many bikes and costumes and revel in the carnival atmosphere. It was a glorious day topped off with a stop at the imposing Thornbridge Hall, family home of the owners of the Thornbridge Brewery.
What a wonderful way to spend a weekend! We wound our way home with happy memories of beautiful bikes and people, glorious British countryside and that sense of camaraderie that a group ride engenders. Thank you Eroica Britannia - we'll definitely be back next year!